Out of the 7.1 billion people in this world, an impressive 85% have access to internet. 25% of the world's population is using social media in some form or the other, while 73% of the online population uses social networking site of some kind. Evidently, Social networking is undoubtedly the most performed online activity.
Social media transcends geography, and the sheer scale and diversity of audiences puts their importance on the highest pedestal. A growth chart of social media usage is given below, and it shows how different regions will respond to social media revolution.
It wouldn't take a genius to discover that social media in Middle East, the region mostly known for its regressive government policies and shady human rights practices, is actually gaining huge grounds. This graph depicts a 191% growth in the Middle East & Africa region, even higher than the rapidly growing Asian economies such as India and China.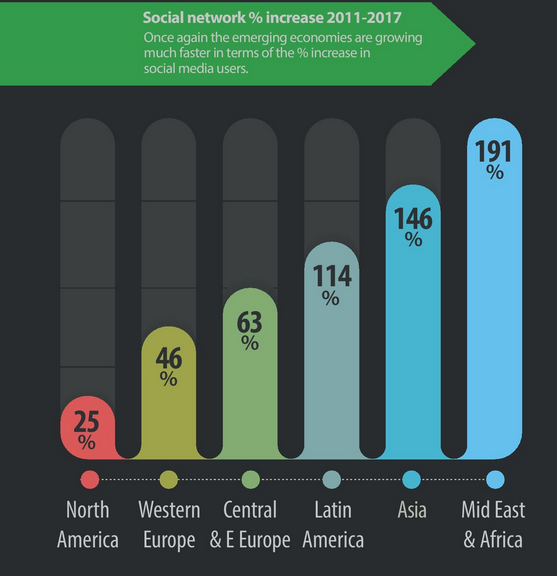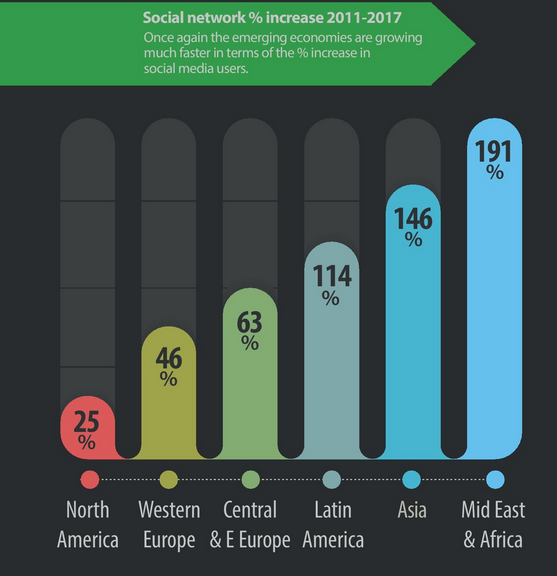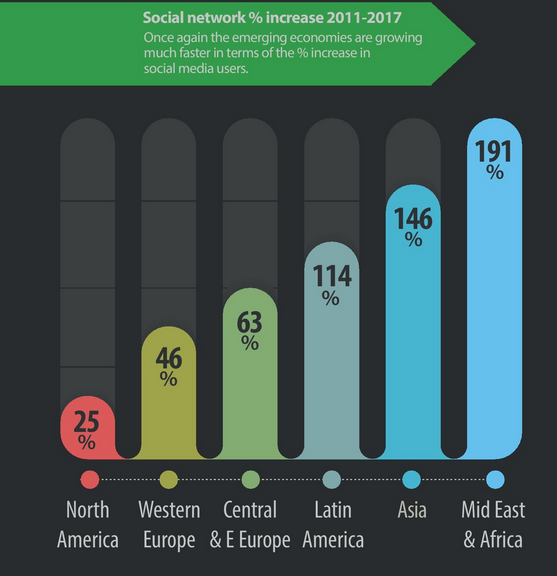 While social media is mainly about the general population, a reflection of the public mood and trends, it is also heartening to notice that many governments in the Middle East are opening up to implementation of Web 2.0 tools and capabilities in their national agendas. A collective theme in Bahrain Vision 2030, Saudi Arabia 2020, Dubai Strategy 2015 and Qatar Strategy 2030, the respective national agendas of their countries, was inclination towards inclusion of Web 2.0 attributes such as collaboration, transparency, communication and empowerment.
It was the spring of 2011, when world witnessed the revolutionary wave sweeping across the whole Middle East, right from Egypt to Tunisia and beyond. This was the period when social media acquired a new meaning in this region, from that of vigilante to a news source, to a distribution channel effective like no other to online activist entity of its own.  Facebook became a major catalyst in this civil unrest, as did Youtube.
Following the death of an Egyptian businessman Khaled Saed on the hands of some unruly police personnel, a Facebook page was created, named "We are all Khaled Said", that attracted more than 500,000 members.   What followed was unprecedented and led to the ouster of the then Prime Minister of Egypt. These upheavals in the Middle East have thrown a positive light on the social media to effect change, and have had a liberating effect on the population, motivating them for better and more utilization of the internet.
When not affecting a regime change, social media finds itself being used in more humanly fashion in this region. According to the data provided by 5th  annual Arab Social Media report, Facebook has registered over 55 million Arabs while Twitter reached 3.7 million users. UAE is the country with maximum Facebook penetration at 41% while Saudi Arabia has more than half the Arab active Twitter users.
The findings of the survey show that social media's growth provides a boost to innovation and impacts education in a positive manner in the Arab World. The Governance and Innovation Program at DSG conducted the survey with a sample set of 4000 participants. 55% of respondent teachers said that they were using social media as a classroom resource.  Besides, around 68% of respondent parents said that online resources helped their children in catching up with lost time owing to political interruptions in regular schooling. Rise of social media has given birth to terms like 'social learning'.
Another survey conducted by the Northwestern University, Qatar, Doha provided more detailed insight into social media usage patterns of Middle Eastern. The results revealed that citizens of Arab world spend an average of 3.2 hours a day on at least one or a combination of different social networks. All countries, except Qatar and Egypt, had more than 90 % of their population using social networking sites. As expected, Facebook is the mother of all social networks, with a whopping 94% of the surveyed people responding positively to having a presence on it. Twitter was distant second with 52% user and Google+ achieved third position with 46% of respondents having its presence on it. However, a lot of social media worth of this region still lays untapped as seen here. As per this infographic, the Middle East alone has a potential of 209 million new users who could be possibly using one of the social media platforms for different purposes.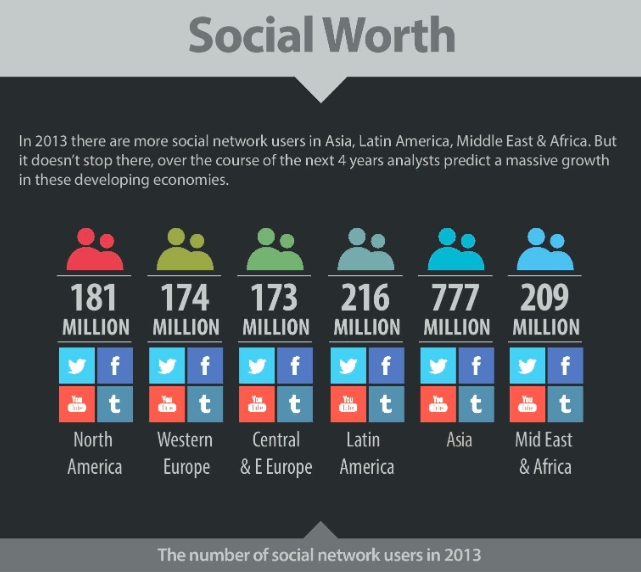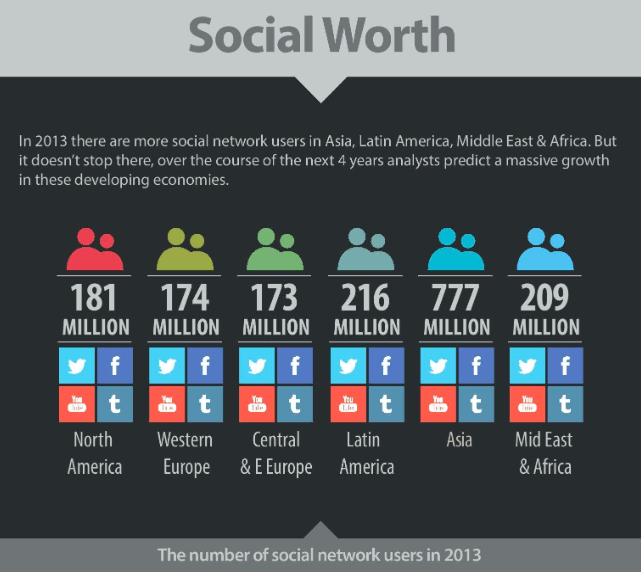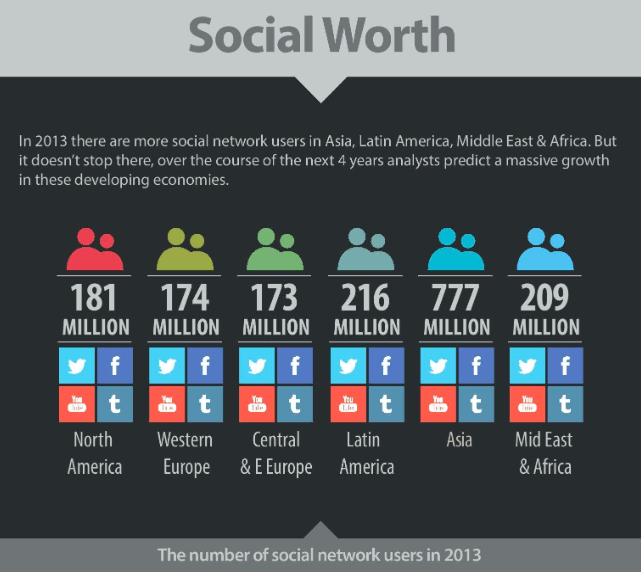 As per data provided by Google, Saudi Arabia is globally number one in per capital YouTube views. The Middle East ranks second, behind only the United States.  This stat becomes all the more impressive when we factor that the region has only 90 million active internet users. On the other hand, the region is currently experiencing a youth bulge. It has over 30 percent of its population between the ages of 15 and 29. This segment of population represents a huge market in digital space.
While social media is the biggest part of this space, other activities like online learning, online recruitment and e-commerce are also gaining traction. A recent development saw Souq.com, the region's first e-commerce and online shopping portal raising a financial backing of US$150 million. This magnitude of financial backing can be rightly assumed as a sign of a fast-growing e-commerce sector. United Arab Emirates leads the pack here, with approximately five in ten people trusting internet for shopping of goods and services according to The Online Shopping Behavior 2013 study. The exponential growth of online shopping in Middle East is a symbol of more technology-savvy and digitally aware customer.
Online recruitment is another positive development in digital space of Middle East. The major players in this arena, such as Naukrigulf, Bayt and Gulftalent and few others, are making a strong foray into online and mobile recruitment process. When Naukrigulf.com launched its iOS app last year, it quickly climbed the chart to become the most downloaded business app in the App store in Middle East, verified by independent app analytics platforms like Distimo.com and Appannie.com. This is a clear indicator of the fact that the Middle East is in actually in the 'middle' of a transforming experience, leveraging different digital tools, & social media is the most important of them.
Saurabh Tyagi is an expert author, with an experience of over 4 years in writing content for articles and blogs. He loves to write on topics related to career, education, technology, working in the middle-east, what is trending in the job market of Dubai and other Gulf countries. A gadget freak and social media enthusiast, he also keenly follows the latest trends in digital marketing.

© Dazeinfo Media & Research Pvt Ltd | All rights reserved.